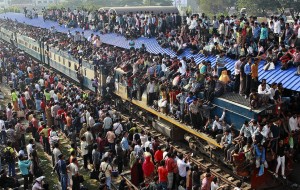 Over the last few months, there's been a lot of press, both in the Folkestone Herald and the Dover Express, concerning the removal of a Folkestone stop to speed up times to London further down the line.
Some of these articles merely state 'improvement in journey times' and the apparent absurdity of having two stops so close to each other as justification for the removal of one of the stops.
I therefore thought that I'd do some further digging into the freely available figures to see if there was any proper justification for these statements.
First of all, let's look at the distribution of passengers for all stations south and east of Ashford:
As you can see from the chart above, Folkestone Central (the subject of most closure rumours/wishes) is, by a clear margin, the most popular/busy station in south-east Kent. Folkestone West comes fourth in the list, surprisingly beating Sandwich in terms of passenger numbers.
Next, we will look at growth over the last few years, since the introduction of high-speed services:
This graph demonstrates the massive growth that Folkestone West has experienced since high-speed services have been calling there. It also shows that, along with this growth, passenger numbers at Folkestone Central have been steadily rising, apart from the most recent year, which has seen declines at all stations except Folkestone West and Ashford.
So, what can we learn from all of this? Firstly, it would clearly be a very bold move to close Folkestone Central, being the most popular station in the region. Growth at Folkestone West is pretty consistent and will only become greater when services to Westenhanger and Sandling are cut to one train per hour in 2015. Folkestone West will also see the opening of a new car park and ticket office next month – which will only further fuel this growth.
Sure it's a pain/shame that the Folkestone stations were built so close to each other but the fact is that they serve different functions (drivers and walkers) and serve almost as many passengers as Dover and Deal stations combined.
The figures used for this article are available here.