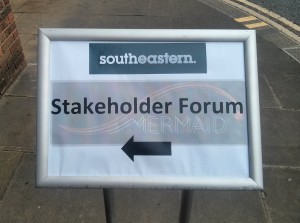 This evening, I had the pleasure of attending my first Southeastern stakeholder meeting. The format was basically a few slides going through operational/performance-related detail followed by a Q&A session.
I won't go into the detail of the meeting itself but a few interesting points were made – which I'll list below:
The 9:45/:56/:58 from Dover/Folkestone/West at weekends will have 12 coaches instead of 6 due to overcrowding.
Westenhanger and Sandling may not necessarily lose their 2 trains per hour after the timetable change in January – the decision is with the DfT and stock is available to keep the bi-hourly service.
The timetable changes will happen on Sunday 11 January instead of the usual December date – this is due to phasing on the London Bridge works.
Trespassers on the line have risen substantially, up to 74 incidents from 16 year on year.
Tim from Dover District Council asked about the delays on the new car park at Dover as well as making Dover under an hour from London. Dave Ward, Network Route director for Kent, was non-committal on both issues but expressed a personal interest in the sub-hour journey time.
Information boards throughout the area will be upgraded so all information you see will come from a central source: the DARWIN system from Network Rail.
It's likely that rebranding will be happening after the direct reward/renewal in October.
Charles Horton, managing director of Southeastern, gave little detail on the upcoming direct reward franchise renewal due to confidentiality during contract discussions.
The existing contract finishes in October so a decision is due before then. At that time, another stakeholder meeting will take place with, what is likely to be, a lot more information on upcoming services and plans for the future.
A gallery of pictures from the meeting are at the bottom of this article.
Station developments
I've been pushing for Folkestone Central to get a bit of a 'spruce-up' and am in direct contact with the station managers. I now have confirmation that the exterior of Central will be getting a paint and a tidy-up before the triennial in August.
The new Folkestone West car park has now opened, albeit with not too many cars using the new part.
This is likely to change soon as parking restrictions are due to be tightened following agreement between the council and Network Rail, as well as the introduction of a larger controlled parking zone around the station.
It is understood that the old car park will eventually be closed, which will also see more cars in the new car park.
Update
It turns out that the council has not given approval for removal of the old car park – this parking will remain alongside the new car park
[print_gllr id=229]