The new winter draft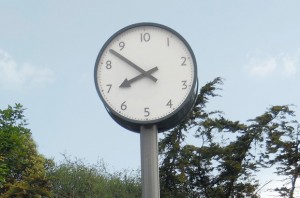 timetable will see substantial changes to train times to/from Folkestone and Dover. High-speed trains from London will depart at xx:37 instead of xx:12 during the day from January 2015.
Along with the clock-face flip above, quite a lot of other services/service patterns will be altered. Below is a summary of the good and bad points of these timetable changes from our perspective:
The good
A later direct high-speed train (23:37) in the evenings;Â 00:12 last train retained with connection at Ashford.
The popular 07:16/27/30 train from Dover/Folkestone C./West to London will no longer stop at Ebbsfleet, giving a best journey time from Dover/Folkestone C./West of 64/53/50 minutes respectively.
Direct trains to Thanet via Sandwich – no need to change trains since they will run in a 'loop' around the coast.
The bad
Folkestone and Dover will lose a train per hour via Ashford off peak, creating an irregular service interval.
Service interval reduced to two trains leaving within 10 minutes of each other off peak from London (arriving at xx:20/31 and xx:31/41 at Folkestone C./Dover).
Service interval reduced to two trains leaving within 16 minutes of each other off peak towards London (departing at xx:03/14 and xx:47/58 from Dover/Folkestone C.).
No longer any direct "not stopping at Ebbsfleet" trains from London at all (even during peak).
The ugly
Unfortunately, since splitting and joining of the slow trains via Tonbridge seems to be coming to an end, it seems inevitable that services will be lost on our stretch of line. An appeal was launched to extend the Victoria via Maidstone service, which currently terminates at Ashford, down to Dover but there is no money available to extend this service at the moment.
One area that we do propose to challenge though is the stopping-at-Ebbsfleet trains in the evening peak from London. The Canterbury branch gets non-stop trains throughout the peak, even though our trains are going to have half the capacity (6 cars instead of 12).
According to my calculations, removing this stop would mean a journey time of just 49 minutes to Folkestone West and 65 minutes to Dover, tantalisingly close to the hallowed sub 1-hour journey time from London to Dover.
If the 2-minute dwell time at Ashford, 2-minute dwell time at Folkestone West (not in timetable but happens often in the evening) and the slow running along the Warren (which causes around 2 minutes extra journey time) are removed, it is my opinion that Dover could be reached in 59 minutes.
Removing a Folkestone stop would also have the same effect, but my previous article explains why this is probably not a good idea.
The actual draft timetables are available at http://www.southeasternrailway.co.uk/your-journey/timetables/januarytimetable/.
Please feel free to leave comments below on any changes that you are concerned with.
We will be in direct consultation with Southeastern regarding these changes.