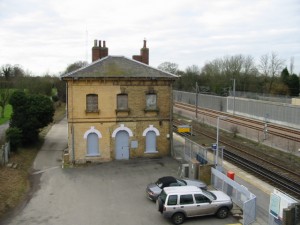 There's recently been some press relating to a proposed Westenhanger Parkway station.
Damian Collins MP has also given his full support to the scheme.
It is my opinion that building this new station is a bad idea – and below is my reasoning
:
First of all, and perhaps most foremost, this will increase journey times to Folkestone and Dover since it will involve another stop. At a time when there is major discontentment relating to Ebbsfleet stopping on peak trains when the new timetable kicks in, an extra stop would be most unwelcome.
Damian Collins says:
As the Channel Tunnel rail link runs parallel to the old railway at Westenhanger, it should be possible for trains to run on these tracks at higher speeds, helping to reduce journey times.
To introduce platforms on the high-speed lines that run past Westenhanger would be a substantial task. The Channel Tunnel rail link was built and specified as fully grade-separated. To introduce platforms at this station would either involve extensive earthworks, to be built at great expense, or an amendment to this specification, which would result in substantially less capacity and flexibility on the main line to the continent.
Secondly, Folkestone West has recently had a substantial amount of money spent on a car park that is clearly underutilised. Mr Collins attended the grand opening, which embarrassingly saw less than a dozen cars using the new facility. Folkestone West car park is less than a mile from the M20. If a parkway station was built, it would cut car journey times from Hythe by 5 minutes at most (one of the key catchment areas for the proposed station). Surely it's better to use an existing underutilised facility rather than build an expensive new one.
We'll be watching this development closely. Please feel free to leave your comments below.