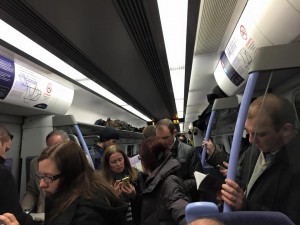 This afternoon I attended a Southeastern Stakeholder meeting at the rather grand library at 61 Whitehall.
The format was pretty much the same as the previous meeting, with the usual presentation by the panel to begin with and then a round of Q&A covering pretty much the same unresolvable points that were raised previously.
Two interesting bits of news were disclosed in the presentation however:
From next month, train-loading information will be available to view so you can see which trains are the busiest.
Ellie Burrows from Network Rail suggested that the speed restriction on the Warren between Dover and Folkestone may be lifted soon.
After the meeting, I managed to collar Richard Dean, director of train services, concerning the evening peak crowding that is currently a problem for some of us travelling on the High-Speed Line.
Richard acknowledged that the 12-car trains to Canterbury are mostly empty towards the front and was something that wasn't considered at the time of the timetable/formation change at the start of the year. Encouragingly, Richard also said that work is currently being done to change the timetable in May to ease the overcrowding on the 1807 and 1837 services. The reason that this can't happen earlier is down to track-access charges on the High-Speed Line, which require budget approval from the Department for Transport.
Nothing is confirmed yet, but, in concluding our conversation, Richard assured me that something will be done about the cattle-truck conditions on these two services.
As soon as I hear anything else, I'll post it here.