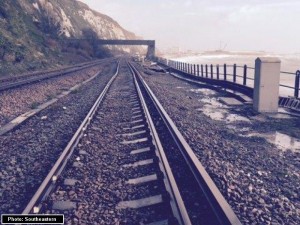 It's the Christmas gift that none of us wanted.
It looks like the line between Dover and Folkestone was substantially damaged by a combination of high tides and bad weather – the sea wall has washed away and consequently undermined the trackbed between Shakespeare Cliff and the old Dover harbour station.
According to the National Rail twitter feed, busses will replace trains until the end of February at the earliest.
This will obviously be a great concern to commuters from Dover since this basically cuts off the High Speed line from/to London, substantially increasing journey times into London for the next couple of months.
I have a feeling Folkestone commuters may also be made to suffer as trains may be diverted via. Canterbury to maintain service, forcing changes at Ashford.
We'll be keeping a close eye on developments, especially when the holiday period is over next week to see what kind of peak service will be provided.
UPDATE: There will be free parking at Folkestone West station during this disruption – for more details, please see the Southeastern Website